showTitle("https://tistory4.daumcdn.net/tistory/946297/skin/images/", "viewTitle.swf", 600, 30, "ME:IN Suppoprters Opening Ceremony and Field Trip Review Part2. by Jonathan Lee", "/entry/MEIN-Suppoprters-Opening-Ceremony-and-Field-Trip-Review-Part2-by-Jonathan-Lee", "left", "#000000");
For Foreigners/★English
2016.07.14 11:46
---
ME:IN Supporters First Field Trip Part Ⅱ
---
Oakwood Premiere Incheon in Songdo boasts the tallest rooftop bar in the whole of South Korea.
It was really grand and nice and had a great atmosphere. On top of that, the drinks aren't too expensive at all. It's a great spot for a date or even for relaxation.
Oakwood Premiere Incheon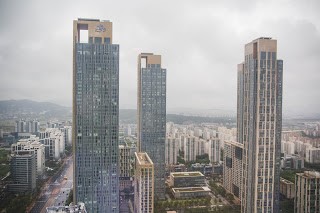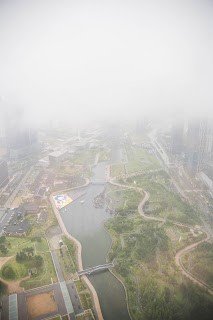 We visited a few rooms ranging from the 3-bedroom suites, to 4-bedroom suites and thereafter the penthouse. These rooms ranged from 500,000won per night to 900,000won per night...
The latter being my allowance per month and almost twice my rent every month. Imagine spending that in one night. Though if I must say, the rooms were spectacular, having a laundromat, kitchen and amazing bathrooms with a beautiful view of Songdo.
∴ Hey, if you want to try luxury, why not yeah?
http://www.oakwoodasia.com/korea/oakwood-incheon.php?src=af
Oakwood Primere Incheon
Address : 165 Convensia-daero, Yeonsu-gu, Incheon
Phone : 032-726-2000
Dinner & Night View
After looking around this luxurious hotel almost for 2 hours, everyone was pretty puckered out and tired of the rain, so we gathered all our stuff and then headed back to the bus that would bring us just a little bit further to the restaurants located at Songdo Central Park.
There, we were supposed to be seeing the magnificent night view of the park through the windows while having our dinner, but alas, the rain and fog made it so difficult to see anything that we just had our dinner while playing games and getting to know each other.
Sun Deli Restaurant
Address : 24-5 Songdo-dong, Yeonsu-gu, Incheon
After a sumptuous dinner, we got our stuff and got ready to brace the rain to make it home.
I headed to the nearest bus stop where I took a bus back to Sinchon. I'm pretty blessed to have been in Incheon for a year, or else I would be scrambling to find my way home! That's that for our first trip! Hopefully the next one wouldn't be battered by the rain. Toodles.